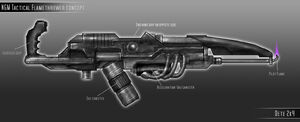 The Storm Thrower is a non-canonical Wonder weapon, found in some non-canoical Maps.
Manufacturing
It was manufactured by U.S Scientists.
Effects
The Storm Thrower is very simular to the M2 Flamethrower and the Flamethrower attachment, but the only difference is that it throws a storm.
Pack-a-Punch
When upgraded it becomes "FTW Cooled Storm Thrower"
Ad blocker interference detected!
Wikia is a free-to-use site that makes money from advertising. We have a modified experience for viewers using ad blockers

Wikia is not accessible if you've made further modifications. Remove the custom ad blocker rule(s) and the page will load as expected.