Steven Qin
is a fictional character that appears in the story
Xenon 115
.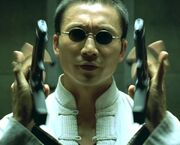 Biography
Steven Qin was born in China around 2260 and was brought to the States, due to China's strict dictator at the time. However, the United States wasn't at all like how his parents had described it to him. They lived in rural apartments, down where people called it "the ghetto." The other "white" boys were always picking on him and his friend, Pat. Year later, however, Steven graduated from high school as the top student in his class and went on to study chemistry sciences at Boston University of Sciences, or BUS. Around 2295, he was recruited into a group of four people to try and handle the zombie outbreak on the planet Xenon 115.
Ad blocker interference detected!
Wikia is a free-to-use site that makes money from advertising. We have a modified experience for viewers using ad blockers

Wikia is not accessible if you've made further modifications. Remove the custom ad blocker rule(s) and the page will load as expected.