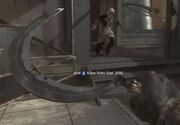 The
Sickle
is the equivelant of the
Bowie Knife
, making you have an upgraded knife. The Sickle, unlike the Bowie Knife, will be lost if the player dies. It is a curved melee weapon that is one-knife kill up until about round 8. It can be used with the Ballistic Knife to be one knife kill up until round 12. After putting your weapon into the Pack-a-Punch, it will be called the Krauss Refribillator (same name with or without sickle) and will be one-knife kill up until about round 14.
Ad blocker interference detected!
Wikia is a free-to-use site that makes money from advertising. We have a modified experience for viewers using ad blockers

Wikia is not accessible if you've made further modifications. Remove the custom ad blocker rule(s) and the page will load as expected.