SPAS-12


Vital statistics
Damage
230-305
Damage Multiplier
Limbs: 1.4, Chest: 1.5, Neck: 1.7, Head: 2.1
Magazine Size
6
Created By
Franchi S.p.A.
Creation Date
1983
Maximum Ammunition
60
Reload Time
7.3s
Rate of Fire
250 RPM
Range
--
Recoil
Low
Penetration
Low
Fire Mode
Pump-Action
Mobility
High
The
SPAS-12
is a dual-mode shotgun which makes an appearance in all canon maps and some fanon maps.
Remember When...
The SPAS-12 appears in the Remember When... storyline. It has a slow firing rate, due to its nature as a pump-action shotgun, low penetration power and low recoil. It is one out of seven shotguns in the storyline. It has good damage, which is great for high rounds and it is one of the most powerful shotguns in the storyline. This weapon has a low ammo conserve of 6 rounds in the gun and 60 in reserve. It can only be obtained via the Mystery Box.
Effectiveness
The SPAS-12 is a good weapon to keep due to its high damage. It has a one-hit kill up until Round 6, except for Hellhounds and Catbeasts where it has a one-hit kill up until Round 9. Its low recoil makes aiming down the sights while firing. However, it is still recommended to hipfire the weapon for the most effectiveness. Its low penetration power makes it difficult to get kills when shooting through objects such as walls and doors, so aiming carefully is recommended. This weapon should be pack-a-punched by Round 18.
Pack-a-Punched Variant
When the SPAS-12 is pack-a-punched, it becomes the Sparker. Its damage increases to 335-410 and its magazine size increases from 6 rounds to 12 rounds. Its reserve ammo increases to 120 rounds to match the newly increased magazine size. This weapon gains a red dot sight and incendiary rounds, which increase the weapons damage by 25%. This weapon should be traded for a Wonder Weapon by Round 27.
FizzyWizzy

Effectiveness
The SPAS-12 Pump action version makes more damage than the Semi-Auto Version. In the later rounds the Semi-Auto version can become dangerous to use because of ammo capacity.
Pack-a-Punch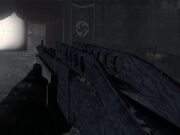 When upgraded it becomes "SPAZ 24" obtaning a larger magazine, increased damage and increased ammo capacity.
==
New Dawn ==
The SPAS-12 appears in the
New Dawn
storyline. It is exactly the same as it appears in
Black Ops.
Ad blocker interference detected!
Wikia is a free-to-use site that makes money from advertising. We have a modified experience for viewers using ad blockers

Wikia is not accessible if you've made further modifications. Remove the custom ad blocker rule(s) and the page will load as expected.