Robert Englund
is a character in the map
Call of the Dead
.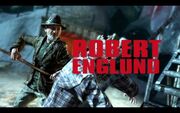 He has portrayed Freddy Kruger from Nightmare on Elm Street in reality. He is one of the four characters in the map, the others being
Sarah Michelle Gellar
,
Michael Rooker
,
Danny Trejo
. They are all actors. He makes many refrences to Freddy Kreuger in his quotes. When he buys a
Sickle,
he says, "Now where did I put my pitchfork?". While his favorite weapon is the
RPK
, he dislikes dual-wield weapons. His point counter is blue.
Ad blocker interference detected!
Wikia is a free-to-use site that makes money from advertising. We have a modified experience for viewers using ad blockers

Wikia is not accessible if you've made further modifications. Remove the custom ad blocker rule(s) and the page will load as expected.