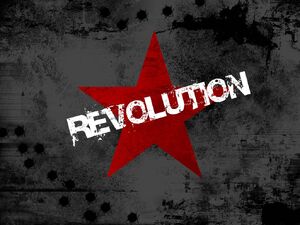 Revolution is a non-canonical Nazi Zombies storyline that was created by Fizzywizzy.
Backstory
I got this idea because i (Fizzywizzy) was thinking about the best Zombie maps.
Enemies
Taliban Zombies
Libyan Army Zombies
Spetsnaz Zombies
Aliens
Helldogs
British Army Zombies
US Army Zombies
Locations
Libya
Afganistan
Iraq
Russia
Kazahkstan
Berring Sea
United States
United Kingdom
Perks
Juggernog
Stamin-Up
Speed Cola
PhD Flopper
Quick Revive
Candolier
Ammo-O-Matic
Characters And factions
US Army Rangers
British Royal Marines and Army
Spetsnaz
Ad blocker interference detected!
Wikia is a free-to-use site that makes money from advertising. We have a modified experience for viewers using ad blockers

Wikia is not accessible if you've made further modifications. Remove the custom ad blocker rule(s) and the page will load as expected.