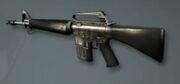 The
M16
is an American assult rifle with a very long service history and is probably one of the best weapons for Zombies. When upgraded it turns into the Skullcrusher which adds a Fully-Auto upgrade and an M203.
Trivia
This appears to be one of Tank Dempsy's favorite weapons; this is probably because both are American.
New Dawn
The
M16
appears in
New Dawn
, unchanged from
Black Ops
.
Ad blocker interference detected!
Wikia is a free-to-use site that makes money from advertising. We have a modified experience for viewers using ad blockers

Wikia is not accessible if you've made further modifications. Remove the custom ad blocker rule(s) and the page will load as expected.