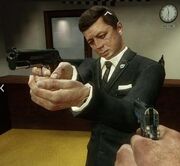 "Your president needs slugs!"
―Out of ammo.
John F. Kennedy is a character in the Nazi Zombies map Five. He is also a character in Call of Duty: Black Ops campaign. He is the president of the Untied States of America during the 1960's before his assasination. His point counter is white.
Trivia:
Kennedy seems to hate Castro, as demonstrated in their interactive conversations and taunts.
He also seems to despise Quick Revive Soda.
He makes multiple refrences to when he was in the Navy.
Ad blocker interference detected!
Wikia is a free-to-use site that makes money from advertising. We have a modified experience for viewers using ad blockers

Wikia is not accessible if you've made further modifications. Remove the custom ad blocker rule(s) and the page will load as expected.