"Time to kill!"
―Tank Dempsey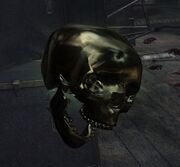 Insta-Kill
is a power-up featured in all canon Zombie maps, its first appearance being
Nacht der Untoten
. Insta-Kill will make it so that you can kill any enemy with a single hit from anything for 30 seconds. Its symbol is a skull. It is a fairly common power-up. Most people knife when this is recieved, because of the extra points it gives you.
Ad blocker interference detected!
Wikia is a free-to-use site that makes money from advertising. We have a modified experience for viewers using ad blockers

Wikia is not accessible if you've made further modifications. Remove the custom ad blocker rule(s) and the page will load as expected.