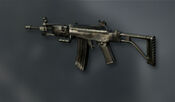 The Galil is an Israeli assault rifle that appears in every Call of Duty: Black Ops Nazi Zombies map.
Canon
The Galil has a thirty-five round magazine and medium rate of fire. It can only be obtained from the Mystery Box. Because of its high ammo count, low recoil, and high power, it is a valued weapon amongst players, anc can be used in the mid rounds without problem. However, if it is used carelessly, it will run out of ammo rather quickly. Headshots should be gone for to conserve ammo, collect points, and rack up kills.
Pack-a-Punched Variant
The Pack-a-Punched Galil becomes "Lamentation," obtaining increased damage and a Red Dot Sight with a customized reticle and lens. It can be used for pretty much the rest of the game, or until round 30 to 32, where it becomes ineffective. Headshots should still be gone for, as it will kill zombies faster.
Gallery
New Dawn
The
Galil
appears in
New Dawn
, identical to the
Black Ops II
iteration.
Ad blocker interference detected!
Wikia is a free-to-use site that makes money from advertising. We have a modified experience for viewers using ad blockers

Wikia is not accessible if you've made further modifications. Remove the custom ad blocker rule(s) and the page will load as expected.