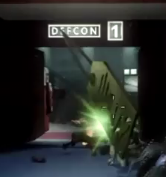 Fire Sale is a canonical power-up that was first introduced in Kino der Toten and later reappeared in Five, Ascension,Nuketown Zombies,and Call of the Dead. It makes every Mystery Box spawn. During the sale, all Mystery Boxes cost 10 points.
Also See
Ad blocker interference detected!
Wikia is a free-to-use site that makes money from advertising. We have a modified experience for viewers using ad blockers

Wikia is not accessible if you've made further modifications. Remove the custom ad blocker rule(s) and the page will load as expected.