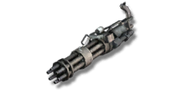 The Death Machine is a canonical Power-Up in the Nazi Zombies maps "Five" and Ascension, but has also appeared in Dead Ops, Call of the Dead, Shangri-La and Moon. The Death Machine is a large and fully automatic weapon that never runs out of ammo and has very high damage on almost any round. While powerful, its usefulness begins to deteriorate at around round 35, and by round 50 becomes more of a burden than a useful weapon. Normally, you get the Death Machine for 30 seconds.
Trivia
There is a Death Machine in the weapons room on "Five".
Every player will obtain the Death Machine for 90 seconds after completing the Kassimir Mechanism easter egg in Ascension.
When George Romero is killed, he drops a Death Machine if the easter egg hasn't been completed yet.
As the Death Machine's 30 seconds go out, the player's character will say a quote regarding low or no ammo.
It is effected by Double Tap Root Beer.
Gallery
Ad blocker interference detected!
Wikia is a free-to-use site that makes money from advertising. We have a modified experience for viewers using ad blockers

Wikia is not accessible if you've made further modifications. Remove the custom ad blocker rule(s) and the page will load as expected.