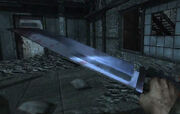 The
Bowie Knife
is a weapon available off the wall in some zombies maps. It is used as a replacement weapon for your normal
knife
. It is one knife kill until about Round 9. When you have both the Bowie Knife and
Ballistic Knife
, you will carry them both in your hands at the same time. This makes you able to have one knife kill up until about Round 12. When
Pack-a-Punched
, it is one knife kill up until about Round 14.
On Ascension and Call of the Dead it is replaced by the Sickle.
Appearances
Ad blocker interference detected!
Wikia is a free-to-use site that makes money from advertising. We have a modified experience for viewers using ad blockers

Wikia is not accessible if you've made further modifications. Remove the custom ad blocker rule(s) and the page will load as expected.