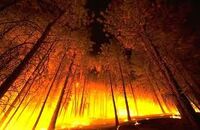 "The Blazing Realm is not too different from this place, just watch out for the spurts of fire Blaze likes to create."
―Magma-Man on the Blazing Realm

The Blazing Realm is one of the segments of the Nazi Zombies Plus Forest. It is a forest eternally assaulted by flames, although it's trees are immune to fire. The realm is ran by EternalBlaze, who caused the fires in grief after the Elders went their separate ways.
During the Battle of NZP, the denizens of the Blazing Realm assaulted the Techno Realm for an, as of yet, unknown reason.
The Blazing Realm surprisingly has the most amount of Zombies in the forest, it is also the house of all fire-related Zombies.