Corporal Walker is a corporal in the U.S. Rangers. He went to the New York suburbs to visit with his friend's home town. He was being
Avery Walker Nylon
[[{{{image}}}|250px]]

Vital statistics
Age
23
Gender
Male
Creator
sulfurouspack48
Creation Date
5/14/11
First Appearance
Town
Status
KIA
honorably discharged from the Rangers for lack of hearing or sight in the left eye and ear.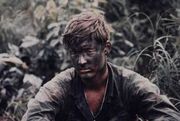 Ad blocker interference detected!
Wikia is a free-to-use site that makes money from advertising. We have a modified experience for viewers using ad blockers

Wikia is not accessible if you've made further modifications. Remove the custom ad blocker rule(s) and the page will load as expected.