"This isn't like any mission I've faced before... Heck, I'd rather take on a load of infected than suffer through this. Earth isn't ready for what they have to face, and neither am I. I don't think survival is possible here... I really think it's the end."
―Chris Redfield
An Internal Evil is a storyline created by 900bv. It is the first game in a saga of storylines known as The Fractured Multiverse. It follows the earths demise as the barriers seperating the seperate universes are opened, and humanity are stuggling to survive. The Resident Evil universe is considered to be the earthverse of the story, although it's slightly altered to fit with the story. The saga isn't concurrent to any other stories created by the author. The storylines, and sagas, primary inspiration is A Universe Splintered.
Maps
Inclusi Occulta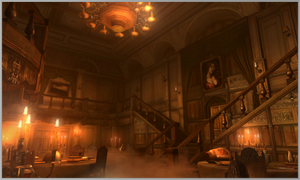 Inclusi Occulta
(
Latin
:
Enclosed Secrets
) is the first map in the storyline. Set on the
Queen Zenobia
, it follows
Chris Redfield
,
Jill Valentine
,
Parker Luciani
and
Jessica Sherawat
as they try to survive as the ship is being destroyed by the
Ooze
. All the while, reality as we know it is slowly fracturing, bringing more danger to the group than a sinking ship.
Read More...
---
Sangre Retiro
Sangre Retiro is set to be the second map in the storyline.
Cosmic Threat
Cosmic Threat is set to be the third map in the storyline.
Không
Không is set to be the fourth map in the storyline.
Dysfunctional Reality
Dysfunctional Reality is set to be the fifth map in the storyline.
Vivere
Vivere is set to be the sixth map in the storyline.
Ad blocker interference detected!
Wikia is a free-to-use site that makes money from advertising. We have a modified experience for viewers using ad blockers

Wikia is not accessible if you've made further modifications. Remove the custom ad blocker rule(s) and the page will load as expected.